Volume 4.1

/

Christianity in Eurafrica: A History of the Church in Europe and Africa

Book Review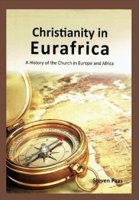 Christianity in Eurafrica: A History of the Church in Europe and Africa
This work by Steven Paas is not just one book, but two well-footnoted textbooks with extensive bibliographies in one binding: one a basic church history survey of the church outside of Africa, and the other a history of the church in Africa. The book begins with an extended historiographical essay entitled, "Characteristics of Church History," in which Pass lays out the basics of the study of church history, as well as his particular perspective, in very fine fashion. As he defines the study of church history, the author clearly states that this book is written from a providentialist's perspective: God is in control of history (pp. 22–24). Paas continues this idea later where he states, "[God's] hand has prepared the world for receiving the Gospel of Jesus Christ" (p. 299). Further, the study of church history is done so that the student can see Satan's attempts to destroy the church (p. 34) among other important lessons. In this opening essay, Paas also has penned a balanced, informative section on the various approaches to the history of African Christianity. This is especially useful to those who may be unfamiliar with either the standard literature or the approaches to studying African Christianity. Included in this, Paas likewise reviews in summary fashion the various books which treat African Christianity. His extended time as both a missionary and teacher in Africa well serves him in this task. As with every major subsection of this book, a very extensive and helpful bibliography ends the historiographical essay.
As a Reformed writer, Pass begins his presentation by tracing "the Church of God" back to the Garden of Eden, but then notes that at the Incarnation "the Church began its manifestation as the Church of Christ," and then becomes a "universal witness" to Christ at the descent of the Holy Spirit at Pentecost (p. 50). Happily, and unlike almost all basic English-language church history textbooks, this first half of Paas's work, "From Galilee to the Atlantic," provides good information on the Church outside of Western Europe, and it also does not spend an inordinate amount of pages tracing primarily the history of Christianity in America. Accordingly, the first half of this book is a good English-language choice for those teaching in places other than the United States, or for those who would like a less US-centric approach, though certainly the writing concentrates on Christianity in Western Europe. Paas has distilled the essential elements of the history of the Christian Church in the West even as he provides some well-written portions on the Church outside the Roman Empire, and, later, outside Western Europe.
While the first section of Christianity in Eurafrica is good, the real goldmine is the book's 240-page history of African Christianity, "The Faith Moves South." Paas has drawn from a very wide variety of clearly cited sources which generally are known only to the African specialist, if known at all, and especially unknown to those not normally teaching or researching African Christianity. While this second major section mostly covers the history of mission coming from the northern hemisphere to Africa, Paas begins well before the era of the modern Protestant mission to Africa by covering Christianity in its earliest arrival in the apostolic and post-apostolic eras. Quoting another, he notes rightly a three-fold religious heritage of Africa: traditional religion, Islam, and Christianity (p. 296). These three touchstones will be referenced repeatedly as he lays out a history of African Christianity. Particularly attractive and helpful for the reader is Pass's constant inclusion of African Christianity within not just the religious milieu throughout the ages, but the political and cultural milieus as well. Thus, the reader is as well-grounded in African history, politics, and cultures as one can be from a survey text. This is especially helpful to the northern or western hemispheric reader who will not have a good grasp, if any, of any aspect of African history, religions, or cultures. That said, this also would be a fine textbook for any who teach in a modern African context given its combination of two books in one.
Christianity in Eurafrica is a recommended addition to the English-language library of any reader or teacher of the history of Christianity who is searching for a greater world perspective. Theological colleges and seminaries also should make this work part of their library collection. Very serious consideration especially should be given this work as a required textbook by those who are teaching church history at a location on the continent of Africa.
Book Review
Worship and Mission for the Global Church: An Ethnodoxology Handbook.
Matthew Westerholm, Minnesota, USA
Book Review
Political Church: The Local Assembly as Embassy of Christ's Rule
Joe McCulley, Minnesota, USA
Book Review
The New Way: Protestantism and the Hmong in Vietnam
Jonathan Hoglund,Vietnam
Book Review
Leading Across Cultures: Effective Ministry and Mission in the Global Church
Jason S. DeRouchie, Minnesota, USA
Book Review
Answering Jihad: A Better Way Forward
Rex Shaver, North Carolina, USA
Book Review
Any-3: Anyone, Anywhere, Anytime
Elliot Clark, Minnesota, USA
Book Review
The Bible and the Flag: Protestant Missions & British Imperialism in the Nineteenth & Twentieth Centuries
Mark Kernan, Washington, USA