Volume 4.1

/

Worship and Mission for the Global Church: An Ethnodoxology Handbook.

Book Review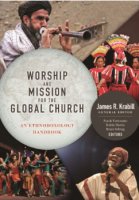 Worship and Mission for the Global Church: An Ethnodoxology Handbook.
This book's ambitious goal is "to help the global church appreciate and generate culturally appropriate arts in worship and witness" (back cover). Accomplishing such a large goal requires many voices, and this book does have many voices—over one hundred writers from twenty countries wrote 148 articles which fill over 600 pages. Invariably, a book with such a grand ambition and such a collection of writers will contain a mixed quality of articles, but even with such a variety, this book is a helpful and essential tool for understanding global worship.
The length and breadth of this book makes a comprehensive survey impossible, so this review highlights only several of the chapters. The editors have organized the chapters into three main sections: foundations, stories, and tools.
The first thirty-six chapters deal with foundational issues using six different lenses: biblical, cultural, historical, missiological, liturgical, and personal. Andrew Hill's opening chapter explores the "Biblical Foundations of Christian Worship" by considering issues of continuity and discontinuity between the Old and New Testaments. Emily Brink and Harold Best each contribute a chapter considering how aesthetics function within local church gatherings. Anne Zaki contributes a terrific reflection on the Nairobi Statement on Worship and Culture, using the metaphor of dance to consider the relationship between cultures in corporate worship. Robin Harris argues that the universality of music does not mean that music is universally understood by all people in the same way. And Vida Chenoweth's reprinted chapter ("Spare Them Western Music!") highlights ways that Western music can wither certain aspects of a local culture.
The second section entitled "Stories" collects perspectives from eighty different people to form a thick testimony about the joys and difficulties of ministry in cross-cultural contexts. These stories are grouped by geographic affinity. The perspectives from Africa are similarly subdivided into General, Central, East, North, Southern, and West. The American continent is subdivided into Latin and North American perspectives. Asian perspectives are given in three subdivisions: East, South, and Southeast. Caribbean and Australian perspectives are also grouped together, as are European and Eurasian perspectives. Three chapters provide perspectives from the Middle East while six chapters survey general concerns in a section entitled "Worldwide."
The final section, "Tools," addresses practical concerns in four overlapping fields. Concerning "arts advocacy," four chapters considered how to promote awareness of art in the church while dealing with opposition. Concerning "teaching," nine other chapters considered how arts workshops and curriculum are best implemented. Concerning "worship," fourteen articles considered how to develop culturally-appropriate worship with well-discipled leadership and coordinated preaching ministry. Concerning "research and co-creation," five chapters discussed the creation and display of local art. In this section, the chapters by David Bailey should be commended for their helpfulness.
Although the book has many strengths, two weaknesses exist. First, the divisions within the book seemed artificial on occasion. The editors seemed driven by a desire to have many diverse voices and perspectives represented. Grouping those voices and perspectives into logical and complementary sections seemed less important. For example, two consecutive chapters were entitled "Six Principles for Discipling Worship Leaders" and "Seven Recommendations for Mentoring Worship Leaders." These chapters had some overlap and lacked a coordinated conversation between their contributors, which would have been illuminating.
Second, while it is impossible for any resource to be comprehensive, the book might have benefited by including more reflection on globalization. A few of the articles mentioned the topic, including Jaewoo Kim's article, "The Whole World Has Gone 'Glocal.'" For the past fifty years, globalization has frightened ethnologists with the prospect of the homogenization of world music primarily around a western sensibility. Everyone seems to agree that globalization is changing the nature of the contemporary world and how people interact within it. What is less unanimous, however, is whether this change is "civilizing" the world or destroying it.
From my own perspective, it seems beyond argumentation that many people in less economically developed regions of the world have benefited from entering the global marketplace and the development of their economy. Some scholars, however, note also the destructive aspects of globalization's influence. Namely, they emphasize how globalization is not the spreading of all cultures equally, but the normalization of particularly Western lifestyles within cultures they label as more vulnerable. By reducing geographic stability, globalization leaves institutions like the family, the Church, and the local community vulnerable to global monoculture and virtual communities.
Musically, it is fascinating to see globalization at work. For example, notice how many varieties of music produced in eastern Asia are strongly shaped by the Western notions of pop and rock ballad. A cursory listen to "J-pop" and "K-pop" genres reveal powerful influences and outright derivation from commercially successful Western idioms. Very similar things can be said for Chinese Cantopop and Thai Phleng Phuea Chiwit.
Globalization can be seen in congregational singing when popular worship songs in the English-speaking world are translated and spread globally throughout the world-wide church. Anecdotally, it seems that more church musicians are influenced by the recordings of Hillsongs church in Australia or the Passion movement in the United States than in the indigenous music of their native land.
Whereas the book would have been strengthened with reflection on these matters, these insights I've proffered are small compared to the feast that this book's editors place in front us. Overall, this book is an invaluable collection from almost all of the major thinkers and writers on the topic of ethnodoxology. It would serve as a wonderful assigned text in a college or seminary class. A topic this large deserves the sort of reflection and consideration that this volume provides. It is sure to be an inspiration for missiologists and church practitioners for years to come.
Book Review
Political Church: The Local Assembly as Embassy of Christ's Rule
Joe McCulley, Minnesota, USA
Book Review
The New Way: Protestantism and the Hmong in Vietnam
Jonathan Hoglund,Vietnam
Book Review
Christianity in Eurafrica: A History of the Church in Europe and Africa
T. J. Marinello, Netherlands
Book Review
Leading Across Cultures: Effective Ministry and Mission in the Global Church
Jason S. DeRouchie, Minnesota, USA
Book Review
Answering Jihad: A Better Way Forward
Rex Shaver, North Carolina, USA
Book Review
Any-3: Anyone, Anywhere, Anytime
Elliot Clark, Minnesota, USA
Book Review
The Bible and the Flag: Protestant Missions & British Imperialism in the Nineteenth & Twentieth Centuries
Mark Kernan, Washington, USA