Volume 2.1

/

Transforming Theological Education: A Practical Handbook for Integrative Learning.

Book Review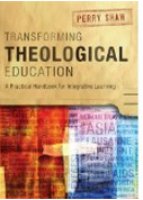 Transforming Theological Education: A Practical Handbook for Integrative Learning.
Curricular design is a challenge for theological education because: 1) Curriculum is vitally important; 2) Most theological educators are trained in Bible, theology, and ministry but not education; 3) In comparison to the oceans of literature on specific subjects in the theological curriculum, little is published on putting the whole curriculum together. To this last point, one can nd chapters in edited volumes and online articles of varying quality, but apart from the subject of this review I know of only one monograph, Leroy Ford's still useful but dated Curriculum Design Manual for Theological Education (1991).
Moreover, we live in a time of global shakeup for theological education; a time where new institutions are popping up around the world and old institutions are trying to revamp their curriculum in response to rising costs, shrinking donations, new technologies, and changing needs of students and churches. So everywhere we have academic deans, administrators, and/or faculty subcommittees charged to " x it" or "build it," in many cases without ever having created theological curriculum or knowing where to start. Which brings us to Perry Shaw's Transforming Theological Education (henceforth, TTE): he's going to tell you where to start. Indeed, he'll do more than that, guiding you through the entire process of considering what the curriculum must accomplish and designing the program and courses that will meet that need. Thank you, Dr. Shaw.
Shaw is currently Professor of Christian Education and Associate Academic Dean at the Arab Baptist Theological Seminary (ABTS) in Beirut, Lebanon, also serving as a speaker and consultant for theological education institutions around the world. TTE is born out of the recent history of ABTS, a 55-year-old institution that as of the early 2000's was in crisis. Revamping the curriculum over a number of years helped bring the seminary back to health, and TTE's introduction tells this story and describes their new curriculum.
"Backwards design," popularized in the secular realm by Wiggins and McTighe's Understanding by Design, is the simple idea that whole curricula, and individual courses, need to be designed by first identifying the desired outcomes and then working "backwards" to determine what content and experiences will step toward these outcomes. The heart of TTE is an application of backwards design to the theological curriculum. This is true on the macro-level of the whole institution, but also on the micro-level of individual courses or sections of courses. Shaw has read widely in educational theory and psychology, and is gifted at identifying insights from those disciplines helpful for theological education and giving examples of how they've been applied in the context of ABTS.
The majority of the book coaches curricular designers, directing them through various considerations that need to be addressed in the course of building a curriculum like setting goals, integration, hidden curriculum, assessing the curriculum, and many more. The body of TTE is divided into two parts, the first dealing with the overall curriculum and institutional culture, the second dealing with the development, design, and teaching of individual courses.
TTE, as described in the subtitle, is very practical. After almost every chapter, the theory discussed in the chapter is given legs by showing documents, forms, or policies from ABTS exemplifying one way of how the theory can be applied. The questions and exercises at the end of every chapter extend the lesson either for personal study, or for discussion with a planning team. Dozens of diagrams help illustrate the concepts being discussed. In many places, the reader is given a clear checklist to follow, like curricular design questions to ask (48–49), or steps in syllabus design (151–52).
Perhaps one reason more books like this don't exist is that the subject matter has potential to bore. I commend Shaw for avoiding this pitfall; he writes clearly, doesn't linger too long in any one place, and unites theory with numerous examples.
I would have loved to have seen further biblical and theological reflection brought to bear on the educational theory of TTE. For example, how does a biblical anthropology inform or critique secular insights on how students learn? How would a biblical theology of how God communicates or calls for his gospel to be communicated shape or limit our seminary classroom methods? Such questions are beyond the scope of TTE's project, but it's worth noting the opportunity for theological educators to keep thinking biblically and theologically not only about their content but also about their methods. When it comes to the latter, there is much more work to be done.
Last year I found myself charged with leading a curricular development project at a new theological institution. My team and I consulted a wide range of resources, and found TTE singularly useful in defining the nature of the task we had before us and helping us start. The first three chapters, which focus on asking the right questions and implementing the curriculum, especially helped us have the right conversations about where we were going and chart a course to get there.
While I happen to work in the same region as ABTS, this book would serve theological institutions and theological educators anywhere. As we conclude our planning, the result is a curriculum that looks a lot different from that of ABTS, for reasons contextual, philosophical, and theological. But that's ok. I don't have to agree with Shaw's way of doing theological education to bene t from his way of designing theological education. TTE isn't trying to force ABTS's curriculum on you, but is giving you the opportunity to learn from their experience and design the curriculum that will best serve your context and your students.
TTE is not only for curriculum designers. Professors planning individual courses, or students developing their philosophy of education, will also nd much help here. So it's an ideal book for individual reading, for faculty development, or as a textbook in education courses. TTE is a unique and valuable contribution to the literature on Theological Education, so if you are involved in this field on any level, I commend it to you as a resource worthy of your careful reading and reflection.
Book Review
Christians at the Border: Immigration, the Church, and the Bible
Joshua B. Henson The Southern Baptist Theological Seminary , Louisville, KY
Book Review
Introducing Christian Mission Today: Scripture, History and Issues
E. W. Zeller Gulf School of Theology, Dubai, UAE.
Book Review
Insights from the Lives of Olive Doke and Paul Kasonga for Pioneer Mission and Church Planting Today
David Deuel The Christian Institute on Disability, Agoura Hills, CA
Book Review
. 'Discerning the Obedience of Faith': A Short History of the World Evangelical Alliance Theological Commission
Linda Gottschalk-Stuckrath Tyndale Theological Seminary, The Netherlands
Book Review
The Persecution of Christians Concerns Us All: Towards a Theology of Martyrdom
Peter J. Hays Tyndale Theological Seminary, The Netherlands
Book Review
Changing World, Unchanging Mission: Responding to Global Challenges
James Kerr Reaching and Teaching International Ministries, Costa Rica
Book Review
A Star in the East: The Rise of Christianity in China
Nate Muse Biblical Ministries